Product Summary
The IRFB3607PBF is a HEXFET Power MOSFET. The applications of the IRFB3607PBF include High Efficiency Synchronous Rectification in SMPS, Uninterruptible Power Supply, High Speed Power Switching, Hard Switched and High Frequency Circuits.
Parametrics
IRFB3607PBF absolute maximum ratings: (1)ID @ TC = 25℃, Continuous Drain Current, VGS @ 10V: 80 A; (2)ID @ TC = 100℃, Continuous Drain Current, VGS @ 10V: 56 A; (3)Pulsed Drain Current: 310 A; (4)PD @TC = 25℃, Maximum Power Dissipation: 140 W; (5)Linear Derating Factor: 0.96 W/℃; (6)Gate-to-Source Voltage: 20 V; (7)Peak Diode Recovery: 27 V/ns; (8)Operating Junction and Storage Temperature Range: -55 to +175 ℃.
Features
IRFB3607PBF features: (1)Improved Gate, Avalanche and Dynamic dv/dt Ruggedness; (2)Fully Characterized Capacitance and Avalanche SOA; (3)Enhanced body diode dV/dt and dI/dt Capability.
Diagrams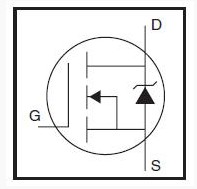 Image
Part No
Mfg
Description
Pricing
(USD)
Quantity

IRFB3607PBF

International Rectifier

MOSFET MOSFT 75V 80A 9.0mOhm 56nC Qg

Data Sheet



| | |
| --- | --- |
| 0-1: | $1.24 |
| 1-25: | $0.80 |
| 25-100: | $0.58 |
| 100-250: | $0.54 |

Image
Part No
Mfg
Description
Pricing
(USD)
Quantity

IRFB11N50A

Vishay/Siliconix

MOSFET N-Chan 500V 11 Amp

Data Sheet



| | |
| --- | --- |
| 0-725: | $1.93 |
| 725-1000: | $1.85 |
| 1000-2000: | $1.81 |


IRFB11N50APBF

Vishay/Siliconix

MOSFET N-Chan 500V 11 Amp

Data Sheet



| | |
| --- | --- |
| 0-1: | $1.07 |
| 1-10: | $0.86 |
| 10-100: | $0.77 |
| 100-250: | $0.69 |


IRFB13N50A

Vishay/Siliconix

MOSFET N-Chan 500V 14 Amp

Data Sheet



| | |
| --- | --- |
| 0-725: | $2.48 |
| 725-1000: | $2.38 |
| 1000-2000: | $2.32 |


IRFB13N50APBF

Vishay/Siliconix

MOSFET N-Chan 500V 14 Amp

Data Sheet



| | |
| --- | --- |
| 0-1: | $2.11 |
| 1-10: | $1.69 |
| 10-100: | $1.54 |
| 100-250: | $1.39 |


IRFB16N50K

Vishay/Siliconix

MOSFET N-Chan 500V 17 Amp

Data Sheet

Negotiable

IRFB16N50KPBF

Vishay/Siliconix

MOSFET N-Chan 500V 17 Amp

Data Sheet

Negotiable