Product Summary
The FQPF6N80C is an 800V N-Channel MOSFET. The FQPF6N80C is produced using Fairchild's proprietary, planar stripe, DMOS technology. This advanced technology has been especially tailored to minimize on-state resistance, provide superior switching performance, and withstand high energy pulse in the avalanche and commutation mode. These devices are well suited for high efficiency switch mode power supplies.
Parametrics
FQPF6N80C absolute maximum ratings: (1)VDSS Drain-Source Voltage: 800V; (2)ID Drain Current - Continuous (TC = 25℃): 5.5A; (3)Continuous (TC = 100℃): 3.2A; (4)IDM Drain Current - Pulsed: 22A; (5)VGSS Gate-Source Voltage: ±30V; (6)EAS Single Pulsed Avalanche Energy: 680mJ; (7)IAR Avalanche Current: 5.5A; (8)EAR Repetitive Avalanche Energy: 15.8mJ; (9)dv/dt Peak Diode Recovery dv/dt: 4.5V/ns; (10)PD Power Dissipation (TC = 25℃): 51W; (11)Derate above 25℃: 0.41 W/℃; (12)TJ, TSTG Operating and Storage Temperature Range:-55℃ to +150℃; (13)TL Maximum lead temperature for soldering purposes, 1/8" from case for 5 seconds: 300℃.
Features
FQPF6N80C features: (1)5.5A, 800V, RDS (on) = 2.5Ω @ VGS = 10V; (2)Low gate charge ( typical 21nC); (3)Low Crss ( typical 8pF); (4)Fast switching; (5)100% avalanche tested; (6)Improved dv/dt capabilit.
Diagrams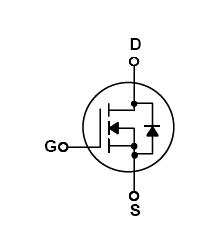 Image
Part No
Mfg
Description
Pricing
(USD)
Quantity

FQPF6N80C

Fairchild Semiconductor

MOSFET 800V N-Ch Q-FET advance C-Series

Data Sheet



| | |
| --- | --- |
| 0-1: | $0.74 |
| 1-25: | $0.65 |
| 25-100: | $0.57 |
| 100-250: | $0.50 |


FQPF6N80CT

Fairchild Semiconductor

MOSFET 800V N-Ch Adv Q-FET C-Series

Data Sheet



| | |
| --- | --- |
| 0-1: | $0.85 |
| 1-25: | $0.76 |
| 25-100: | $0.68 |
| 100-250: | $0.61 |