Product Summary
The KA5M0365RYDTU is a Fairchild Power Switch(FPS) specially designed for an off-line SMPS with minimal external components. The Fairchild Power Switch(FPS) consists of a high voltage power SenseFET and a current mode PWM IC Included PWM controller integrates the fixed frequency oscillator, the under voltage lock-out, the leading edge blanking, the optimized gate turn-on/turn-off driver, the thermal shutdown protection, the over voltage protection, and the temperature compensated precision current sources for the loop compensation and the fault protection circuitry. The applications of the KA5M0365RYDTU include SMPS for VCR, SVR, STB, DVD & DVCD, SMPS for Printer, Facsimile & Scanner, Adaptor for Camcorder.
Parametrics
KA5M0365RYDTU absolute maximum ratings: (1)Maximum Drain Voltage, VD,MAX: 650 V; (2)Drain-Gate Voltage (RGS=1MΩ), VDGR: 650 V; (3)Gate-Source (GND) Voltage, VGS: ±30 V; (4)Drain Current Pulsed, IDM: 12.0 ADC; (5)Continuous Drain Current (TC=25℃), ID: 3.0 ADC; (6)Continuous Drain Current (TC=100℃), ID: 2.4 ADC; (7)Single Pulsed Avalanche Energy, EAS: 358 mJ; (8)Maximum Supply Voltage, VCC,MAX: 30 V; (9)Analog Input Voltage Range, VFB: -0.3 to VSD V; (10)Total Power Dissipation, PD: 75 W; (11)Derating: 0.6 W/℃; (12)Operating Junction Temperature, TJ: +160℃; (13)Operating Ambient Temperature, TA: -25 to +85℃; (14)Storage Temperature Range, TSTG: -55 to +150℃.
Features
KA5M0365RYDTU features: (1)Precision Fixed Operating Frequency (100/67/50kHz); (2)Low Start-up Current(Typ. 100uA); (3)Pulse by Pulse Current Limiting; (4)Over Current Protection; (5)Over Voltage Protection (Min. 25V); (6)Internal Thermal Shutdown Function; (7)Under Voltage Lockout; (8)Internal High Voltage Sense FET; (9)Auto-Restart Mode.
Diagrams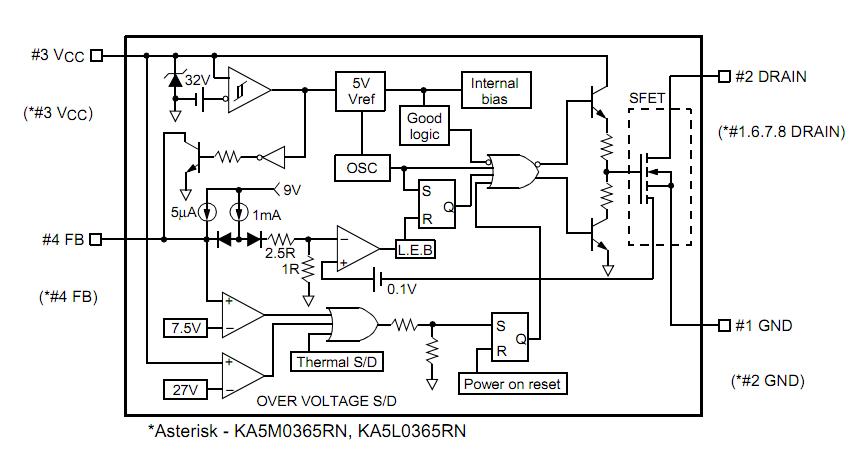 Image
Part No
Mfg
Description
Pricing
(USD)
Quantity

KA5M0365RYDTU

Fairchild Semiconductor

Switching Converters, Regulators & Controllers T0-220F-4L 3A/650V

Data Sheet



| | |
| --- | --- |
| 0-580: | $0.70 |
| 580-1000: | $0.58 |
| 1000-2000: | $0.54 |
| 2000-5000: | $0.52 |


KA5M0365RYDTU_Q

Fairchild Semiconductor

Power Switch ICs - Power Distribution T0-220F-4L 3A/650V

Data Sheet

Negotiable