Product Summary
The KA3525A is an SMPS controller. It is a monolithic integrated circuit that includes all of the control circuits necessary for a pulse width modulating regulator. There are a voltage reference, an error amplifier, a pulse width modulator, an oscillator, an under voltage lockout, a soft start circuit, and the output driver in the chip.
Parametrics
KA3525A absolute maximum ratings: (1)supply voltage: 40V; (2)collector supply voltage: 40V; (3)output current: 500mA; (4)oscillator charging current: 5mA; (5)power dissipation: 1000m/W; (6)operating temperature: 0 to 70℃; (7)storage temperature: -65 to 150℃; (8)lead temperature: 300℃.
Features
KA3525A features: (1)5V ±1% Reference; (2)Oscillator Sync Terminal; (3)Internal Soft Start; (4)Deadtime Control; (5)Under Voltage Lockout.
Diagrams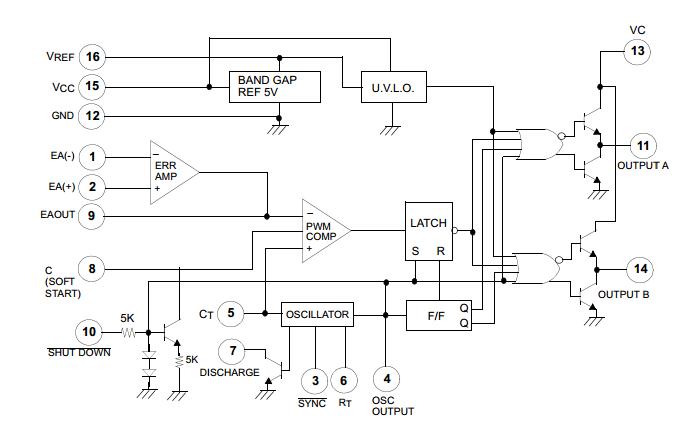 Image
Part No
Mfg
Description
Pricing
(USD)
Quantity

KA3525A

Fairchild Semiconductor

DC/DC Switching Controllers SMPS Controller

Data Sheet



| | |
| --- | --- |
| 0-1: | $0.46 |
| 1-25: | $0.41 |
| 25-100: | $0.36 |
| 100-250: | $0.31 |

Image
Part No
Mfg
Description
Pricing
(USD)
Quantity

KA350

Fairchild Semiconductor

Linear Regulators - Standard 3a Pos Voltage Reg 3Term adjustable

Data Sheet

Negotiable

KA3501

Fairchild Semiconductor

Supervisory Circuits Secondary Monitoring SMPS IC

Data Sheet

Negotiable

KA3502

Fairchild Semiconductor

Supervisory Circuits

Data Sheet

Negotiable

KA3504

Fairchild Semiconductor

Supervisory Circuits Supervisor IC SMPS

Data Sheet

Negotiable

KA3505

Fairchild Semiconductor

Supervisory Circuits PC SMPS Sup. IC

Data Sheet

Negotiable

KA350TU

Fairchild Semiconductor

Linear Regulators - Standard 3a Pos Voltage Reg 3Term adjustable

Data Sheet

Negotiable